The Fountain - A Picture Book
Reviews:
(5-star review) "Lovely pictures. And with sound too! A great telling of the important journey of water."

(June 11, 2012)
"This is a beautiful story about nature for young kids… Personally, as a grandma, I LOVE IT! My 5 year old granddaughters first impression was 'awwwesome….!'"

theemptynestexpress.com (June 10, 2012)
Today is World Environment Day and it's a pleasant coincidence that my first (co-authored) Picture eBook for children, which is on nature, came online on the Apple iBookstore today.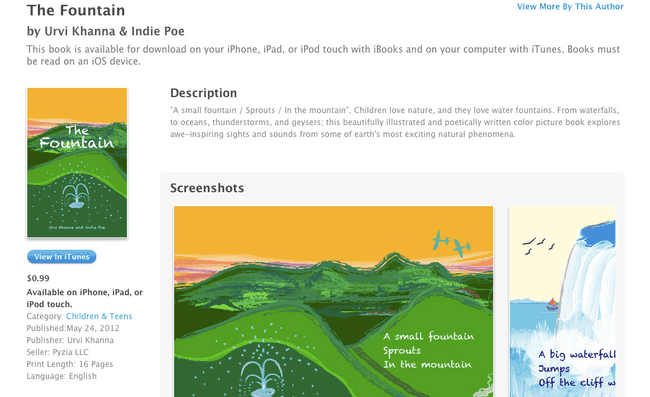 It's called The Fountain, and right now it's available on 30 stores at the iBookstore, including USA ($ 0.99), UK, and several other countries in Europe (€ 0.99). You can download a sample before buying, or view the screenshots to get an idea of the content. The book can be viewed in iBooks2 on Apple iPad, iPhone or iPod Touch. Here's a paragraph from the book description:
Description
"A small fountain / Sprouts / In the mountain". Children love nature, and they love water fountains. From waterfalls, to oceans, thunderstorms, and geysers; this beautifully illustrated and poetically written color picture book explores awe-inspiring sights and sounds from some of earth's most exciting natural phenomena.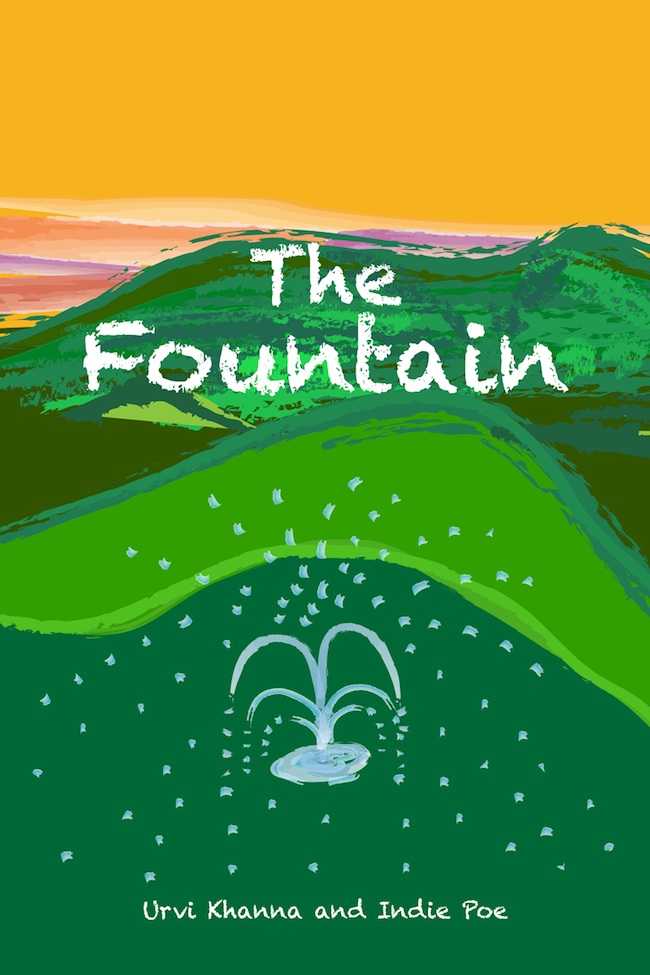 Not available in India yet
Unfortunately, we aren't able to distribute this in India yet due to some policy restrictions by Apple. We'll be releasing an India-specific version soon through another channel.
iBooks - A robust way of publishing interactive books
Given all the restrictions with the iBookstore, the fact is that iBooks is currently the most robust available platform for publishing interactive books for children. Our book has various sound effects and interactive elements and during our research we could not find a better substitute.
Inspiration
For me, living in a polluted city like New Delhi with a toddler has been challenging as a parent -- as one is always looking at finding avenues of interaction with nature, for your child. Last month I've been conducting a children's workshop called Art in the Park , and for me this book is a natural progression to that.
More to come
According to some recent media reports , nature has increasingly been absent from kids' books. Here is our contribution to the cause of bringing environment and nature back into books -- The Fountain is the first book in our series of Nature Books and you may expect several more in the series. Hope your kids enjoy it! Any feedback is more than welcome as it will help us improve for the subsequent books.
Free giveaways to early reviewers
I'm giving a few copies of this ebook free to early reviewers. If you'd like to get one, please email me / leave a comment with your email id and I'll send you a coupon code that will allow you to download this book free on your iOS device.
Download details
Book Title: The Fountain
ISBN: 9781621544494
Authors: Urvi Khanna, Indie Poe
Pages: 16
Platform: iBooks / iOS
Type: Picture e-Book with audio effects
Available on Apple iTunes Stores: US , UK , DE , ES , FR , IT , NL , AT , SE , CH , DK , BE , FI , IE , PL , NO , HU , GR , CZ , CY , LU and several other countries.