Inventiv Advertising: Creative Services for Brands
Inventiv Advertising is a consulting firm providing creative ideas and cross-domain solutions for brand development, marketing and management.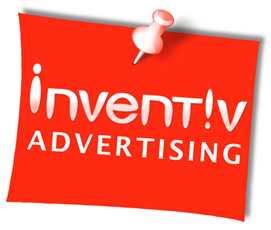 Inventiv constantly innovates to conceive and implement solutions using latest marketing, media and technology methods to solve business challenges in the areas of marketing and branding.
Services & Methodologies:
Brand Management including strategy, identity, extensions, termination; using a proprietary methodology called 'Formulated Approach to Memorable Brand Experiences (Inventiv-FAB™)', which extends the industry standard Brand Identity Prism model by Kapferer to include more experiential facets of a brand.
Tactical Planning using proprietary methodology called 'Tactical Integrated Marketing & Advertising Plan (Inventiv-TiMAP™)' helps clients define short-term objectives based on brand strategy, develop advertising metrics and research parameters, and lay out a roadmap comprising of cost and revenue projections based on media and production plans.
Creative Strategy based on the keyword 'different'. A totally unique creative strategy supports even focus-driven marketing strategies, creating differentiation as a generic rule rather than choice.
Market Research both quantitative and qualitative, forming an important part of the tactical plan. Feedback cycle feeds the ongoing creative process for corrections in the Creative Strategy.
Liberated Advertising Media-mix (Inventiv-LAMP) , a proprietary methodology that integrates tactical planning with  new media communication channels — organic search marketing, search-engine marketing, social media marketing and viral m-marketing.
Experiential Campaign Lifecycle Management (Inventiv-ECLM™) , a proprietary methodology for prolonging the experience that a target consumer has with an advertising message, by targeting the end-user at various touch-points encountered by the individual at various times of her normal working day.
---
1 comments captured from original post on Blogger
Paperown said on 2018-02-15
You left me wowed, I feel luck I found your website. Keep producing the great content Assignment writing services in UK